This blog really should be re-named 'Adventures of a quarantined historian'. I am currently in self-isolation in Boston and won't be doing much travelling anytime soon. So instead I have decided to re-visit my past research adventures and share them weekly. I hope you enjoy this first instalment.
I grew up wishing I lived in the 'olden days'. I wasn't fussy – any period where a bonnet was acceptable would have been fine. I constructed long and complicated stories for myself, and always hoped that one day I would walk through a doorway to find I had gone back in time. (Actually, I still hope for that).
Becoming a historian and curator seemed a natural path for me. I now spend a great deal of time imagining how things must have been, and using surviving evidence to try to piece things together. As I costume and dance historian, I often handle original objects, visit theatres and sometimes even see films of performances, but I have never been able to inhabit the same space as my object of study – this would surely be impossible.
A year ago, however, I came face to face with a history that I have been chasing.
I visited West Dean College, an Art and Conservation College run by the Edward James Foundation, and which was once the family home of poet and patron Edward James.
Walking through the gates I hadn't anticipated feeling anything – I have visited many archives in the course of my work and have visited many converted stately homes. I assumed this would be the same, but as I rounded a bend – this was a drive way not intended to be walked – and the house came into view, it felt strangely magical, even draped in scaffolding.
West Dean has been converted in ways sympathetic to its original design and there is an excited atmosphere present. The converted servants' hall and kitchen – now a canteen (although unlike any College canteen I visited before!) and bar space – were buzzing with students and faculty. The house is now a strange mish-mash of new and sleek, Edwardian splendour and James's surrealist interiors. There are hunting trophies, a Dalí lobster telephone, carved oak panelling, even his wife Tilly Losch's foot prints woven into the carpet …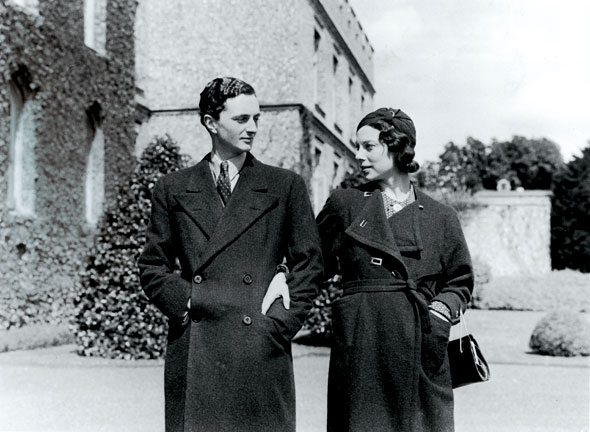 I had come to West Dean to see material associated with the short-lived ballet company Les Ballets 1933 which had been funded by James and promoted his wife, Tilly Losch.
The archives, which are currently in the process of being catalogued, are housed in the Butler's Pantry. To view various items, I was taken into the large ornate dining room. The collection proved fascinating, but it was the combination of the archives and the building where I was reading them that was truly extraordinary.
After the London season of Les Ballets 1933 closed in mid-July 1933, James invited many of dancers to come and stay at West Dean. The house visitors book revealed the names of those who came:
The English dancers Diana Gould and Prudence Hyman (later known as Paulina Strogova) came for four days. Dancers Serge Ismailoff, Ludovic Matlinsky, Karl Scheibe, the Sidorenko sisters, Tamara (later known as Tamara Grigorieva) and Galina (later known as Galina Razoumova) and their mother Sophie, Tamara Tchinarova and her mother Anna and Natalie Leslie (later known as Natalia Krassovska) stayed for a week. They were also joined by pianist Rica Fox, photographer Cecil Beaton, composer Nicolas Nobokoff and set painter Prince A. Schervashidze.
On the opposite page of the guest book are pasted snapshots of the party in the grounds of West Dean. Some of the photos show them wearing costumes from the work Fastes – the only photographic records of the ballet. Other photos show the party grouped together, a sense of fun clearly present. They look as if they are about to tumble to the grass.
As a historian you are trained to be objective, but as you get to know these historical figures this becomes harder, if not impossible. You feel as if you are personally getting to know them – and now I found myself sitting in the same dining room where this group of extraordinary dancers and artists had been – including four young Russian girls.
Tchinarova, Krassovska and the Sidorenko sisters had all trained in Paris with former Russian Imperial Ballerina Olga Preobrajenska. They had been personally selected by Balanchine, and were aged between 13 and 15 at the time of Les Ballets 1933. Tchinarova and Leslie would go one to become great ballerinas. I have studied their careers in detail and watched interviews with them as old ladies still with heavy Russian accents – and now, here in the same room where I'm sitting, they had sat as very young girls.
Reading press reports and literature on the period, it is easy to forget that as well as renowned dancers, they were also just young girls. The snapshots in the visitors book show them with their hair in long braids, and their mothers in tow.
Sitting in the West Dean dining room I began to read a transcript of Tchinarova's account of their stay at West Dean. Tchinarova, who aged just 14 travelled with her mother, recalled that James 'in a moment of wild generosity asked the whole company to spend a fortnight at his family's stately home, West Dean Park.'[1] According to the guest book the majority of the dancers only stayed seven days, and not all the dancers joined the party.
Tchinarova continued; 'We were free to roam, ride and use the marvellous library and music room, and each of us was allocated a room with a four-poster bed and gilt antique furniture.'[2] I have since given a talk on the company in this very library.
The large stately home must have been a stark contrast to the cheap lodgings the dancers were used to staying in. Tchinarova recalled how they were expected to dress for dinner, at which liveried footman attended them; 'The two dresses I had bought in the "ten shillings, one pound store" made their evening appearances in turn. Mama had two blouses and switched them nightly.'[3]
'The placing of the guests was another ceremony. Each night a different guest was selected to sit on the host's right – a position we dreaded, as the lady on his right was the first to be presented with the silver platter by the butler.'[4]
The young Russian girls would watch the older English dancers for clues. Diana Gould wrote that she and James 'watched the utter surprise of the Russians at the sight of the row of chafing dishes on the sideboard at breakfast – at least six different ones – a real English country-house breakfast.'[5]
Tchinarova recalled one startling incident; 'When Natasha Krassovska [Leslie], on being presented with a large platter of turbot covered with sauce, decided that the fish had been sliced, and pushed the servers under it, displacing the whole lot onto her plate. It overbalanced, of course, landing on her lap. She burst into tears and the butler was mortified; but Edward James behaved as if nothing had happened. He assured her that it was of no consequence and made a sign to proceed with the roast.'[6]
After dinner the party would play hide and seek.
Tchinarova stated; 'The unoccupied wing became alive: doors creaked open, revealing figures covered in sheets and screeching with maniacal laughter; piercing screams were heard; people in the dark were pushed into mouldy cupboards where heavy keys with padlocks locked them in. It was frightening, exciting, producing hysterical laughter, fear, screams and sighs of relief at reaching safety.'[7]
After my day of research, I too wandered the corridors of West Dean. I almost felt I could hear the laughter of those Russian girls. I couldn't find anyone to play hide and seek with, however …
Can you be a time travelling sentimental historian? I plan to put that to the test.
References:
[1] Tamara Tchinarova Finch, Dancing into the Unknown, My Life in the Ballets Russes and Beyond (London: Dance Books, 2007), 72
[2] Tchinarova, Dancing into the Unknown, 72
[3] Tchinarova, Dancing into the Unknown, 73
[4] Tchinarova, Dancing into the Unknown, 73
[5] Menuhin, Diana. "Les Ballets 1933." Dance Research: The Journal of the Society for Dance Research 6, no. 2 (1988) 76
[6] Tchinarova, Dancing into the Unknown, 73
[7] Tchinarova, Dancing into the Unknown, 73